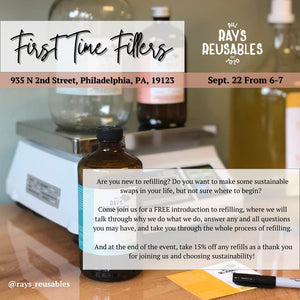 Has this ever happened to you:
You go into a refill shop, or a low waste store and you feel nervous to ask the questions you have!
We've all been there, starting out on your sustainable journey can be intimidating. 
If you've been looking to kick start your low waste journey come join us for first time fillers! 
We're setting aside an hour on Friday 9/22 to focus on welcoming new comers to the low-waste movement. 
During this event we will walk you through some statistics surrounding the single-use plastic waste crisis, what is a 'refillery' and how does it work, what does 'closed loop' mean, why we don't love the term 'zero waste',
 and answer any and all questions you have about our products, and—of course—filling up on your household essentials!

This event is FREE, but we are asking that you pre-register using this product listing so that we know how many people to expect! To get you started on your shift towards a more eco-friendly lifestyle, all first timers will receive a 15% discount on any purchases made the night of the event. Any supportive friends and returning refillers will get 10% off as a thank you :)