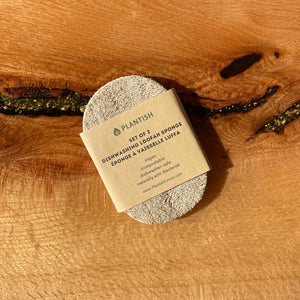 Regular kitchen sponges are made of polyester that lasts forever. Yuck!
Natural loofah is made from a the fibrous interior of a gourd, so its fully compostable at the end of its life. It has one softer and one scrubby side.
Care:
- Dry completely between uses
- Place away from high heat or flames
- Avoid prolonged soaking in water
- Boil, steam, or dunk in vinegar to kill bacteria 
Once your sponge gets to the end of its life, just chop it up and put it in your compost bin. The loofah can even be used in your garden for water retention, growing seedlings, and a whole lot more!
Packaging: None
Materials: Cellulose fiber, loofah
Made in: