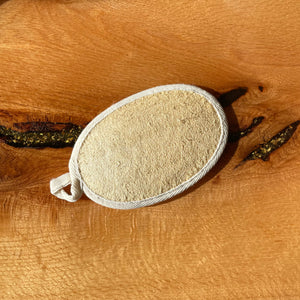 These natural loofah exfoliating shower pads are perfect for buffing dead skin cells off of your body. 
Each shower pad comes with a hand loop on the back for ease of use as well as a loop for hanging it to dry.
Directions for exfoliating: 
- Wet with warm water
- Apply soap to surface (a little goes a long way!)
- Gently rub the pad over your body in circular motions
Care:
- Rinse after each use to remove residual soap
- Dry completely between uses
- Avoid prolonged soaking in water
- Boil, steam, or dunk in vinegar to kill bacteria
- Replace once a month, or when it starts to smell boil in clean water to sanitize 
Once your sponge gets to the end of its life, just chop it up and put it in your compost bin. The loofah can even be used in your garden for water retention, growing seedlings, and a whole lot more!
Packaging: None
Materials: Cellulose fiber, loofah, cotton, elastic strap
Made in: