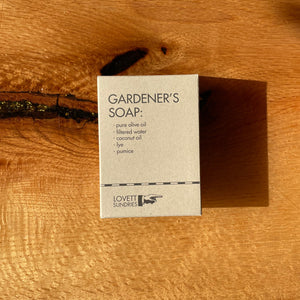 Sometimes your hands are just dirty. Not regular-degular hand soap dirty, but scrub the living hell out of your hands to get that grime off dirty.
Not just for gardeners! If you're someone who works in the garden, or with cars (and their oil), or jewelry making, really anything where your hands are accumulating a layer of nastiness on them, this soap has what you need to get it off.
Not only is it a good solid soap on its own, but a fine pumice powder helps to add scrubbing action to your wash for sparkling sanded little mitts. 
Packaging: Cardboard box 
Ingredients: pure olive oil, distilled water, coconut oil, lye, pumice
Made in: Pittsburgh, PA