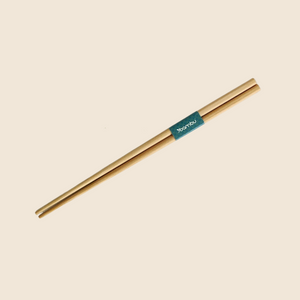 Each year billions of chopsticks are thrown right into the trash. Don't let your takeout be part of that statistic! These super smooth, organic bamboo chopsticks are so versatile that they're ready to take on just about any meal you can imagine (well, maybe not soups).
Care is simple, just wash in hot soapy water and pat dry. You may choose to condition your cutlery if it begins to appear dull with a food safe conditioning oil.
Microwaving, soaking or running your cutlery through the dishwasher is not recommended.
Size: 10"
Hand-burnished organic bamboo
Naturally stain resistant anti-microbial
Lightweight and more durable than wood
Finished with a natural food-grade, certified organic oil derived from flax seeds
Packaging: paper band
Materials: organic bamboo
Made in: Fujian, China