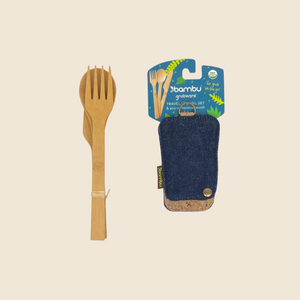 Make disposable takeout cutlery a thing of the past. This set of light-weight organic bamboo cutlery fits easily in any bag, desk, or car without clinking around.  
Care is simple, just wash in hot soapy water and pat dry. You may choose to condition your cutlery if it begins to appear dull with a food safe conditioning oil.
Microwaving, soaking or running your cutlery through the dishwasher is not recommended.
Set contains: fork, spoon, and knife
Size: 7.25" x 2.5" (8" with cover)
Weight: 1.06 oz
Organic bamboo
Naturally stain resistant anti-microbial
Lightweight and more durable than wood
Finished with a natural food-grade, certified organic oil derived from flax seeds
Packaging: paper 
Materials: organic bamboo, hemp denim cover
Made in: Fujian, China