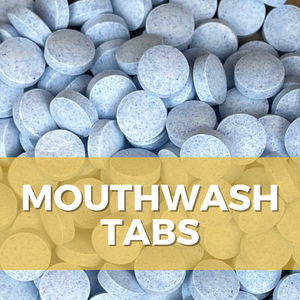 Qty 1 = 1 oz. Online and pre-orders will come in a paper bag.
Mouthwash is So. Hard. To find plastic free. Thats why these tabs are here!
These little babies are great for travel, so whether you're heading out on the road or just want to freshen up after lunch, they're by your side.
To use: Chew tablet between until it dissolves, take a sip of water, and swish as you would with any other mouthwash!
Packaging: none
Ingredients: Xylitol (From Birch), Natural Mint Flavor, Sodium Bicarbonate (Baking Soda), Calcium Carbonate, Sodium Cocoyl Isethionate (From Coconut), Caesalpinia Spinosa Gum, Charcoal Powder*, Hydroxyapatite (Nano), Cellulose Gum, Cocamidopropyl Betaine (From Coconut), Zinc Citrate, Magnesium Stearate (Vegan)†, Hydrated Silica, Organic Mentha Piperita (Peppermint) Oil, Organic Mentha Arvensis (Menthol) Crystals, Organic Melaleuca Alternifolia (Tea Tree) Oil, Organic Cocos Nucifera (Coconut) Oil, Ammonium Glycyrrhizate (From Licorice Root), and Organic Aloe Barbadensis Leaf Juice.

* Charcoal Mint Only
† Sustainably Sourced (RSPO)*
*We strive to be a completely palm oil free store, but there are numerous ingredients that are largely derived from palm oil used in cosmetics. Many brands do not call attention to the source of these ingredients in their labeling.
We have decided to make an exception to our palm-free rule for this product due to Huppy's transparency regarding the source of their magnesium stearate and the exceptional performance of this product.
Made in: California, USA