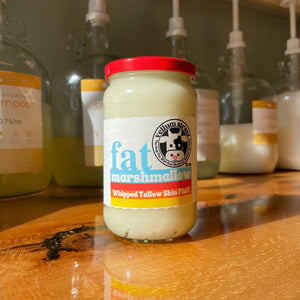 Looking for a light but nourishing skin balm that has local sourcing, repurposing waste, and minimal ingredients in mind? This new Fat Marshmallow from Vellum Street Soap might just scratch that itch! (or calm it down if you're slathering it on the itch, I guess)
As Vellum Street Soaps says:

"Fat Marshmallow is the ultimate healthy skin moisturizer! Biocompatable grass fed tallow, lightly scented with real vanilla beans and whipped into the creamiest fluff...its a treat your skin won't forget and your mouth may be a little jealous of! Slather it on, but try not to lick it off!"

By partnering with local companies such as Primal Supply Meats (tallow), Swarmbustin' Honey (beeswax), an assortment of local restaurants (for their skin nurturing food scraps!), and Remark Glass (post consumer glass packaging), Vellum Street Soaps is able to create a product that not only nourishes your skin, but supports local businesses working towards a more sustainable future.  
*Please keep in mind, due to the delicate nature of the texture of this product that extreme temperatures can affect consistency. Cold will cause it to stiffen up a bit, while heat will cause it to melt. We will not be shipping this item during the warmer summer months!

Packaging: salvaged glass jars
Ingredients: locally sourced tallow, bees wax, vanilla bean, arrowroot 
Made in: Philadelphia, PA