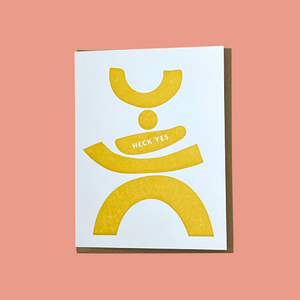 Are you excited? So excited that you almost want to use an expletive but you pull it back just at the last minute and just say "heck yes!" instead? Yeah, show that emotion with this cheerful, handmade card.

Details:
4.25" x 5.5"
Letter press printed folded card
Blank inside
Yellow ink on bright white cotton paper stock 
No cello sleeve (a plastic free greeting card!)
Meshwork Press is an artist-run print shop in Wilkinsburg, PA that uses their letterpress and screen printing expertise to create a space where creativity finds a comfortable home. 

Materials: ink and white cotton paper stock
Packaging: paper envelope
Made in: Wilkinsburg (Pittsburgh), PA