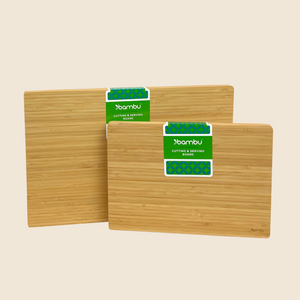 These organic bamboo cutting boards are designed to be lightweight so that you can cut, serve, carry, and set down all without breaking a sweat-- or spilling a crumb! 

Care is simple, just wash in hot soapy water and wipe dry. You may choose to condition your cutlery if it begins to appear dull with a food safe conditioning oil.
Microwaving, soaking or running your cutting board through the dishwasher is not recommended.
Size:

Medium: 10" L x 7" W x 5/8" H

Large: 14" L x 9" W x 5/8" H

Naturally stain resistant anti-microbial
Lightweight design 
Finished with a natural food-grade, certified organic oil derived from flax seeds
Packaging: paper band
Materials: organic bamboo
Made in: Fujian, China