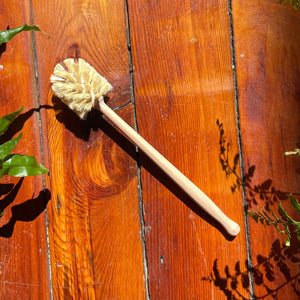 Toilet brushes are notoriously made of synthetic plastics and glues that never biodegrade, and are harmful on the environment. This toilet brush is 100% compostable, meaning it won't stick around forever at the end of its life.
Not only that, the bristles are thick and strong, giving you a tough scrubber and a powerful clean.
Cleaner for you and your family, better for the environment. It's a win win. 
Packaging: N/A
Care Instructions: store bristle side down
Materials: FSC certified beechwood from Germany, natural sisal bristles
Made in: China