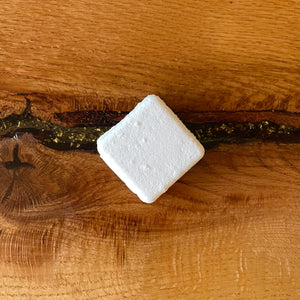 What is a toilet tab? Toss one in the bowl of your toilet and watch it fizzle away! Baking soda and essential oils work to neutralize odors, while citric acid eats through any organic debris. 
Plop one in, let it dissolve, and scrub with your toilet brush (if desired).
These also make great deodorizers for your toilet as well as things like diaper pails, garbage disposals, really anywhere that you would like a little odor fighting support!
Packaging: none (paper bag if shipped)
Ingredients: baking soda, citric acid, peppermint essential oil, tea tree essential oil, witch hazel 
Made in: Philadelphia, PA (by us!)